Genshin Impact 2.1 has introduced much-waited fishing Gameplay. Some valuable fish specimens are known as Ornamental Fish. These fishes are very energetic and lively and cause more ripples. These energetic fish can be raised as pets in the Serenitea Pot's Pool of Sapphire Grace. This walkthrough is a guide to help you to find different locations, bait required to catch different fish in Teyvat and, the Genshin Impact fishing guide.
Monstadt – 8 locations
Liyue – 11 locations
Inazuma – 8 locations
Which Fishing Bait to use in Genshin Impant ?
There are four different kinds of bait available as mentioned below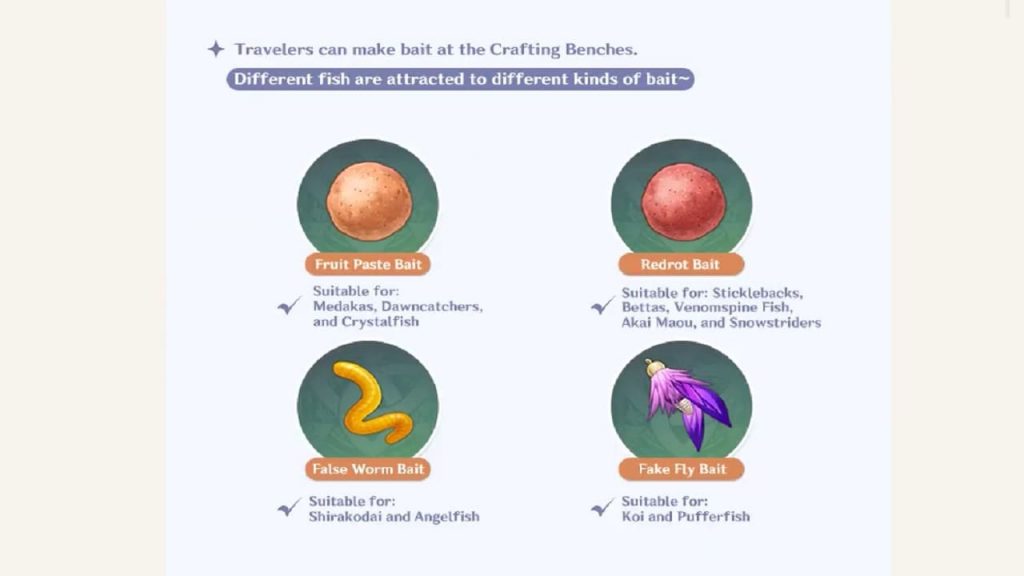 | | | |
| --- | --- | --- |
| Bait Name | How to Obtain | Recipe |
| Fruit Paste Bait | Its blueprint is obtained during the World Quest Exploding Population, during the Fishing tutorial. | 1 x Sunsettia, 1 x Wheat = 10 x Fruit Paste Bait |
| Redrot Bait | The blueprint can be bought from Nantuck of the Mondstadt Fishing Association with 3 Medaka fishes. | 1 x Dendrobium, 1 x Fowl = 10 x Redrot Bait |
| False Worm Bait | The blueprint can be bought from Nantuck of the Mondstadt Fishing Association with 3 Medaka fishes. | 1 x Slime Condensate , 1 x Berry = 10 x False Worm Bait |
| Fake Fly Bait | The blueprint can be bought from Nantuck of the Mondstadt Fishing Association with 3 Medaka fishes. | 1 x Sakura Bloom, 1 x Horsetail = 10 x Fake Fly Bait |
---
Monstadt: Fishing Spots & Fishes Available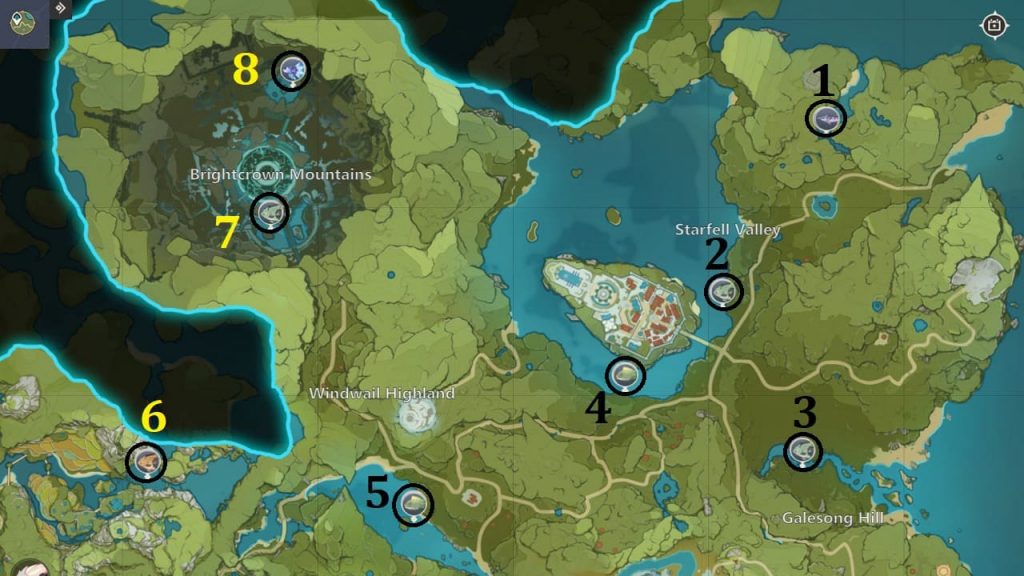 Stormbearer Mountains (1)

Aizen Medaka
Crystalfish
Rusty Koi
Golden Koi
Tea-Colored Shirakodai
East of Monstadt (2)

Aizen Medaka
Akai Maou
Bitter Pufferfish
Pufferfish
Medaka
Tea-Colored Shirakodai
Venomspine Fish
Falcon Coast River (3)

Medaka
Aizen Medaka
Venomspine Fish
Tea-Colored Shirakodai
South of Monstadt (4)

Medaka
Aizen Medaka
Akai Maou
Bitter Pufferfish
Pufferfish
Tea-Colored Shirakodai
Venomspine Fish
Dawn Winery (5)

Medaka
Aizen Medaka
Pufferfish
Bitter Pufferfish
Akai Maou
Tea-Colored Shirakodai
Venomspine Fish
Qingce Village (6) – (This is not part of Monstadt)

Crystalfish
Dawncatcher
Bitter Pufferfish
Brown Shirakodai
Sweet-Flower Medaka
Stormterror's Lair South (7)

Aizen Medaka
Dawncatcher
Medaka
Tea-Colored Shirakodai
Stormterror's Lair North (8)

Aizen Medaka
Crystalfish
Dawncatcher
Medaka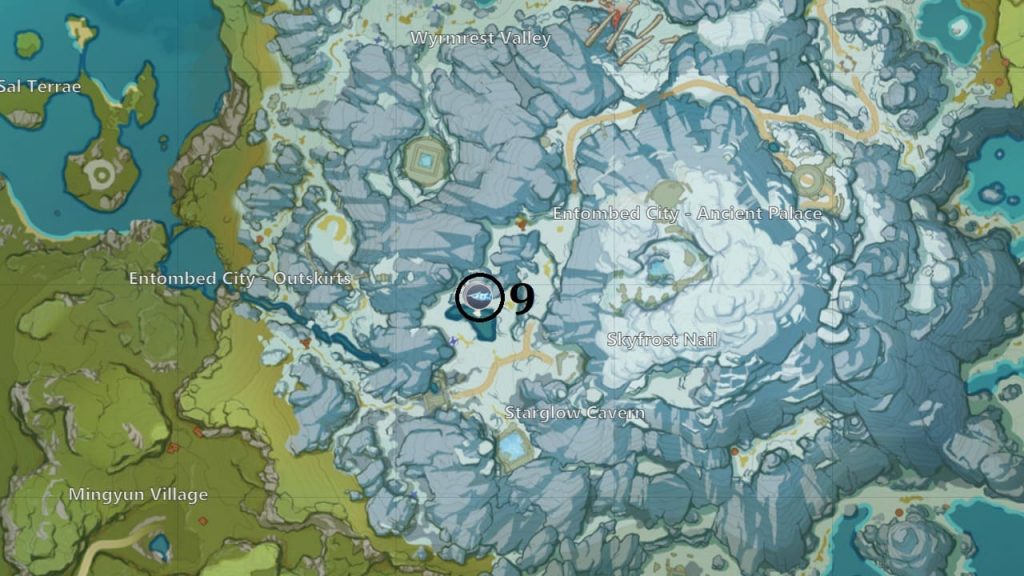 Dragonspine (9)

Medaka
Lunged Stickleback
Snowstrider
Tea-Colored Shirakodai
Liyue: Fishing Spots & Fishes Available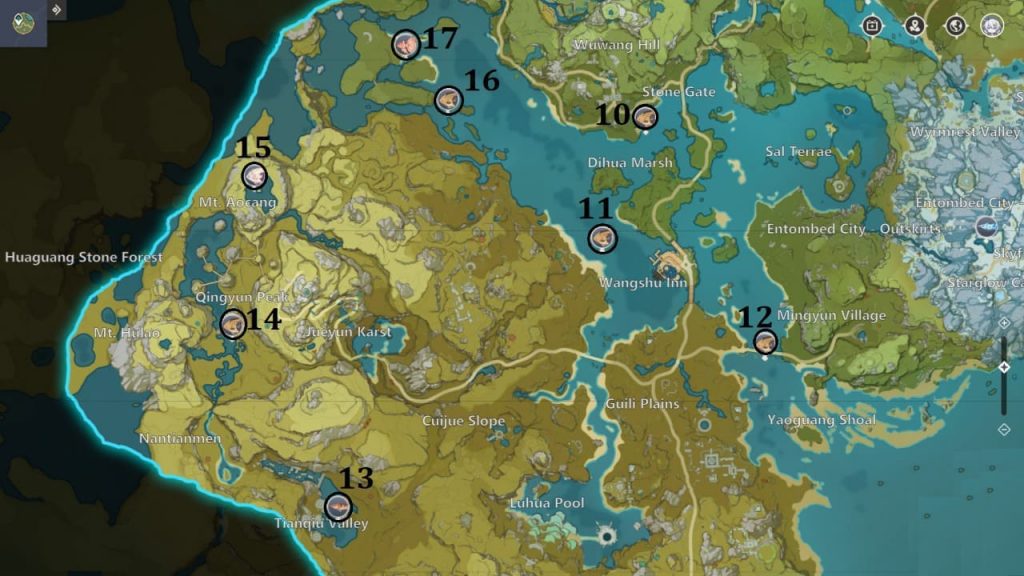 Stone Gate (10)

Brown Shirakodai
Sweet-Flower Medaka
West of Wangshu Inn (11)

Akai Maou
Betta
Brown Shirakodai
Golden Koi
Rusty Koi
Sweet-Flower Medaka
Bridge West of Mingyun Village (12)

Akai Maou
Betta
Brown Shirakodai
Golden Koi
Rusty Koi
Sweet-Flower Medaka
River East of Mt. Hulao (14)

Betta Brown
Crystalfish
Dawncatcher
Medaka
Sweet-Flower Medaka
Shirakodai
Mt. Aocang (15)

Abiding Angelfish
Crystalfish
Dawncatcher
Medaka
Sweet-Flower Medaka
Northwest Bishui Plain #1 (16)

Betta
Brown Shirakodai
Medaka
Northwest Bishui Plain #2 (17)

Crystalfish
Dawncatcher
Medaka
Brown Shirakodai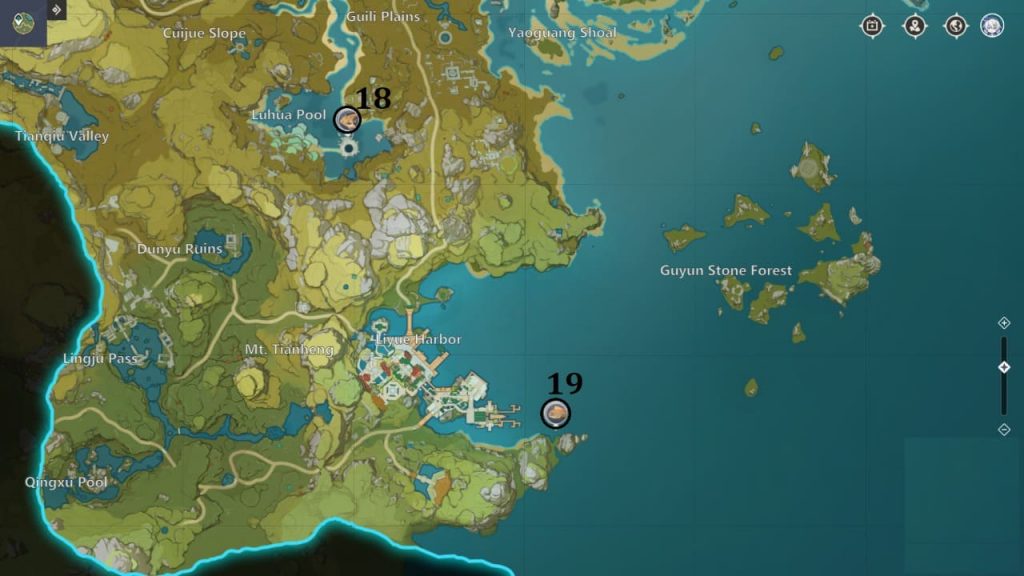 Luhua Pool (18)

Akai Maou
Betta
Brown Shirakodai
Golden Koi
Rusty Koi
Sweet-Flower Medaka
Southeast of Liyue Harbor (19)

Betta
Crystalfish
Dawncatcher
Pufferfish
Sweet-Flower Medaka
Inazuma: Fishing Spots & Fishes Available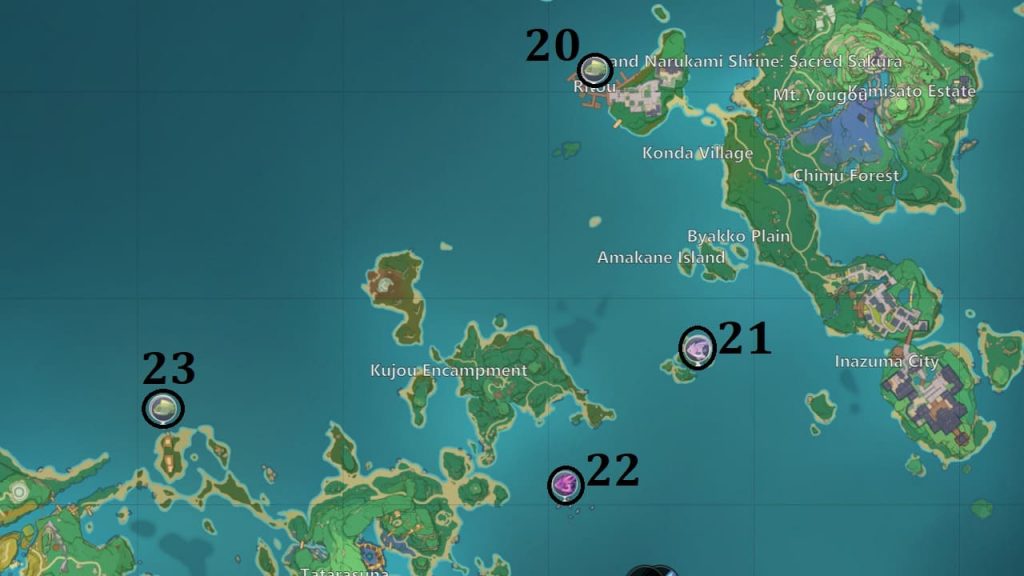 Ritou (20)

Akai Maou
Bitter Pufferfish
Glaze Medaka
Lunged Stickleback
Pufferfish
Violet Court Domain (21)

Glaze Medaka
Lunged Stickleback
Purple Shirakodai
Shipwreck East of Tatarasuna (22)
Nazuchi Beach (23)

Bitter Pufferfish
Lunged Stickleback
Medaka
Purple Shirakodai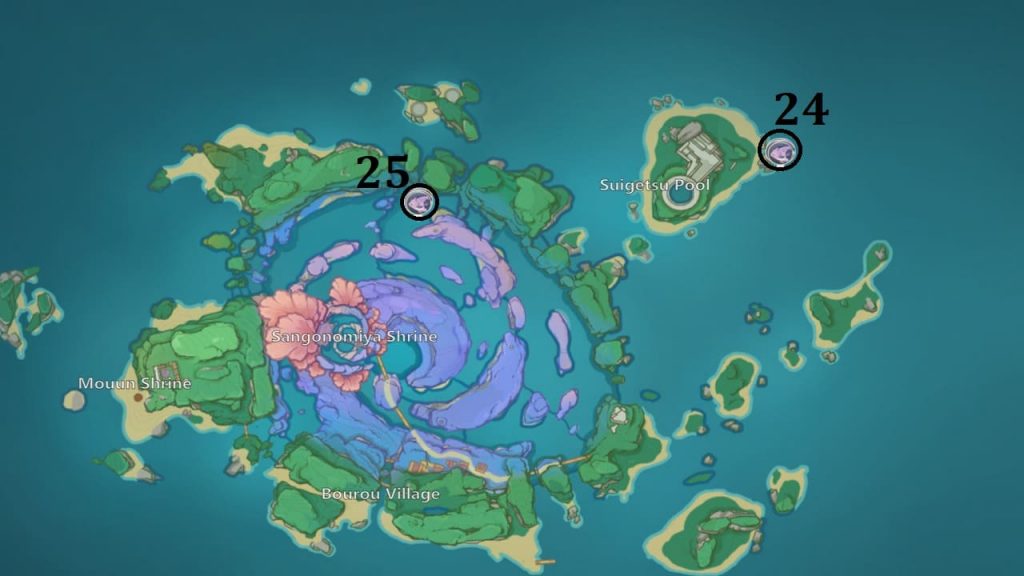 Eastern cost Suigetsu Pool (24)

Crystalfish
Dawncatcher
Medaka
Glaze Medaka
Lunged Stickleback
Purple Shirakodai
North of Sangonomiya Shrine (25)

Crystalfish
Dawncatcher
Medaka
Glaze Medaka
Lunged Stickleback
Purple Shirakodai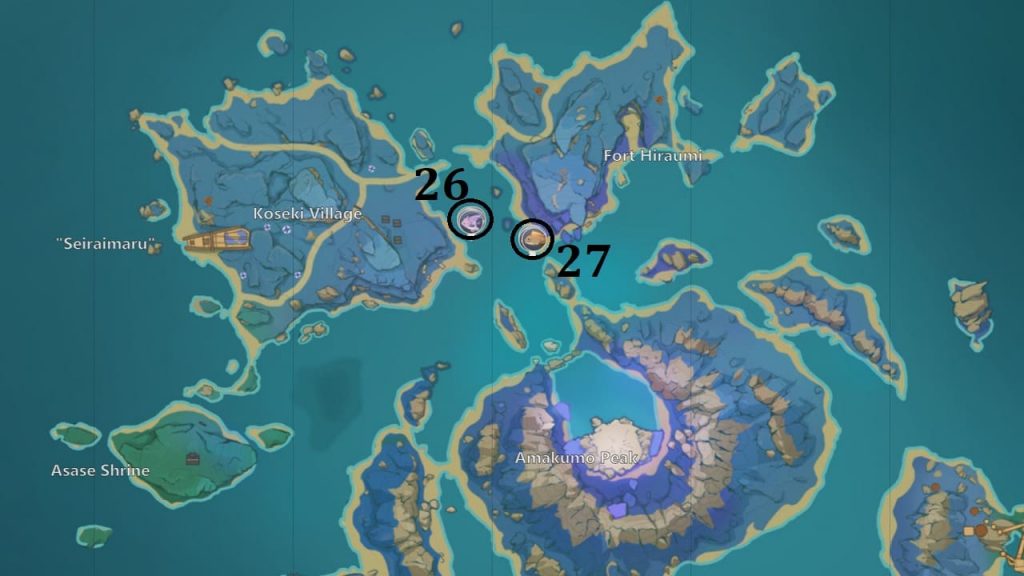 East of Koseki Village (26)

Akai Maou
Glaze Medaka
Golden Koi
Rusty Koi
Lunged Stickleback
Purple Shirakodai
West of Fort Hirafumi (27)

Crytalfish
Dawncatcher
Medaka
Pufferfish
Purple Shirakodai