BIO NUCLEUS 7H OBJECTIVES
The following objectives become available when you reach Bio Nucleus 7H:
Resource Totem x 3

Bioblob Container x 4

Superb Loot x 6

Old World Gadget x 1

Mutation Spot x 1

Underground Area x 1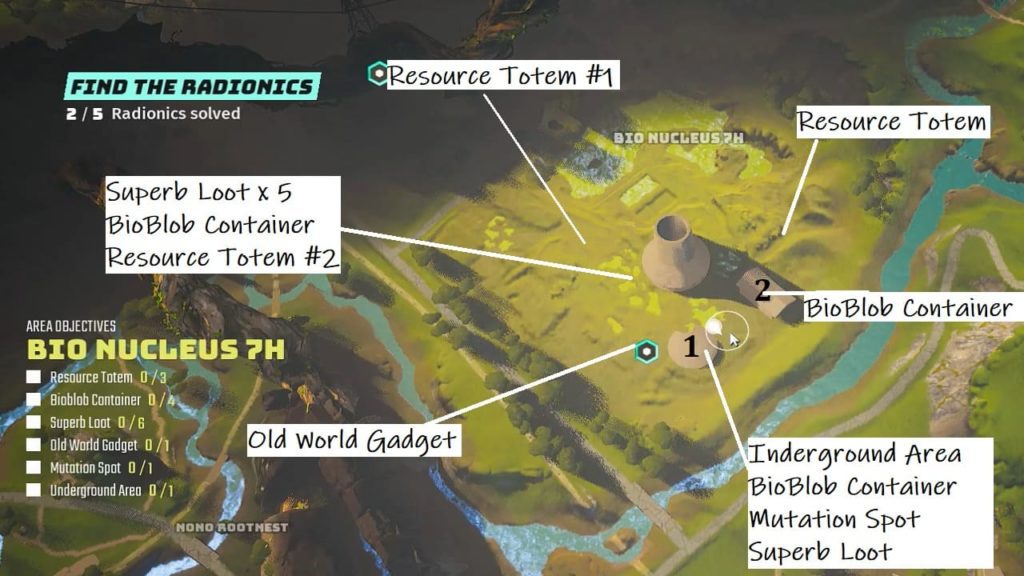 Underground Area: Head inside the circular building marked as 1. Follow the linear path to reach the underground area.
Bioblob Container #1: You can find it lying on the ground before reaching the last main hall area for the boss fight.

Fight off all these enemies before proceeding further in the game

Mutation Spot: You'll come up against a big monster in the last big hall. Defeat him and interact with one of the circular boiling liquid spots of the ground.
Superb Loot #1: Superbloot is inside one of the cupboards in the same hall.
Resource Totem #1: Plastic Skrap is inside a destroyed metal building as marked on the map.
Old World Gadget: Enter into a ruined wooden cabin/hut near the west of the circular building. Interact with the radio to solve the puzzle by matching the color nodes.


The next few items are available almost nearby inside three different wooden huts/cabins area is marked on the map.

You will find Superb Loots x 5 (all inside huts), Resource Totem #2, Bioblob x 2 (one near boundary wall and one inside the hut)
Bioblob #4: Head inside building #2 and climb up to the metal catwalk. You can find the Bioblob container in the middle of the building.
Resource Totem #3: Metal Skrap location is marked on the map. It is northeast of building 2.