Lust from beyond: Chapter 12 – Initiation
This walkthrough of the game "Lust from Beyond" will guide you through all the objectives of Chapter 12 – Initiation.
Objective: Go to the Ritual Hall
Ritual Hall is on the second floor.
Objective: Get Jonathan
Find him near the entrance door (first floor)
Objective: Take part in the ritual
Put on the mask: Collect the mask from the side table.
Go to the dining room: It is located on the first floor, take left after getting downstairs. Approach Theodore to start a conversation and then slide the curtains to enter the dining room.
Undress: Remove your clothes by approaching the chair on the right wall.
Satisfy your lust: have sex with one of the girls.
Pray to Lauv'abrarc: Go near the Lauv'abrarc statue on the left wall to start the prayer.
Objective: Leave the dining room
Get your clothes from the chair and exit the dining hall. Speak with Theodore and collect his room key.
Objective: Read essay of Lasih
Go inside Theodore's bedroom on the second floor (opposite to ritual hall) using the key. Collect the hint of the box with Lasih's essay from the cupboard. 

Now go to the library and use the Hint to open the box.
---
How to solve Lasih's essay Box puzzle:
There are three roman numerals (II, V, and IX) and several rotatable dots on the box.
There are four rotatable circles. Rotate these circles to move the dots to their desired positions as described below:

Circle with Roman numeral V must contain 'Four dots' & 'One dot'.
Circle with Roman numeral II must contain 'One dot' & 'One dot'
Circle with Roman numeral IX must contain 'Six dots' & 'Three dots'. Finally, speak with Mable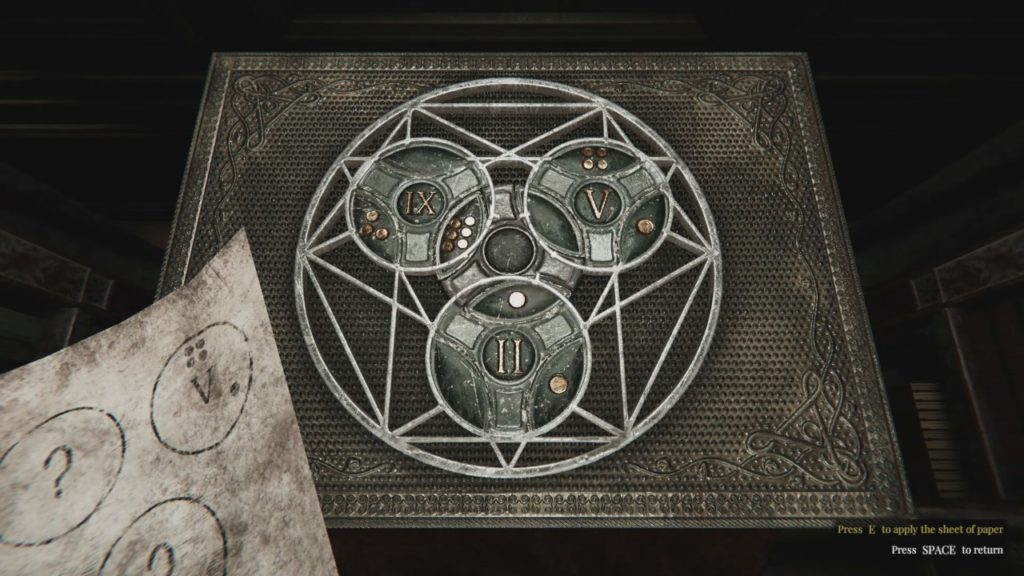 ---
Objective: Return to the study of "The Nature of Universes"
Go to the second floor
Objective: Follow the path indicated by the candles
From the second floor follow candles. Climb the ladder and open the door to enter a new room. Move the shelf in front of the door to enter another room. Open the gate and continue to follow the candles downstairs (first floor) to reach the living room. Use the portal to enter Lusst'ghaa. Chapter 12 ends here.
---