Covid-19 pandemic has severely affected the economy but one industry that is still booming amid the meltdown is Livestreaming. Livestreaming services have already been growing in the past few years but owing to the lockdown and people staying at home livestreaming services have seen an explosive growth in the past couple of months.
StreamElements and Arsenal.gg jointly published viewersip report of all the major livestreaming platforms showing year over year growth from April 2019 to April 2020.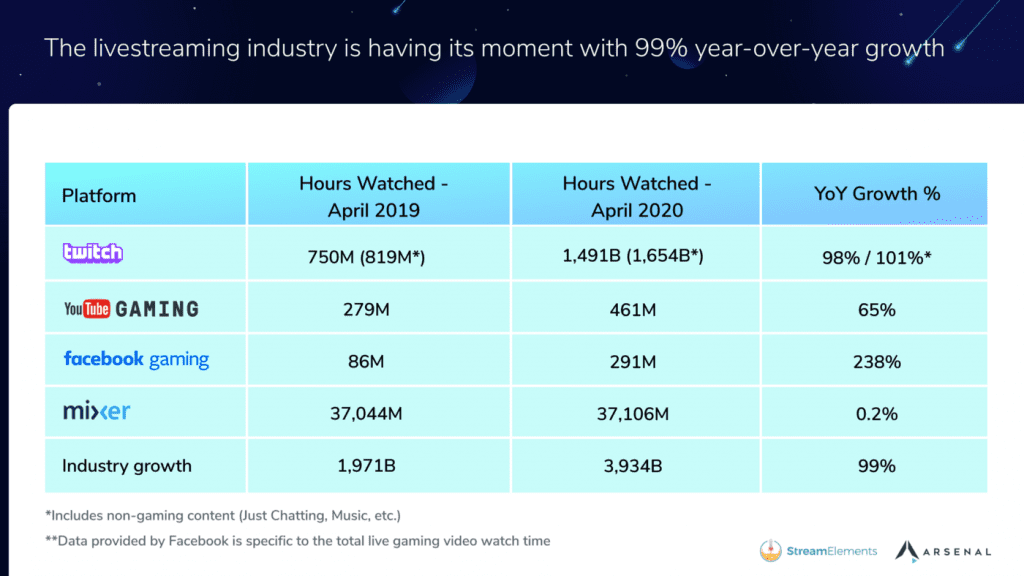 Overall the industry has grown by 99%. Twitch remains the leader in the industry with 1.65 Billion Watch Hours, 101% increase from last year.Facebook gaming, which was launched in June 2018, saw the highest jump of 238%.Viewership wise Youtube Gaming remains at second position with 461 Million watch hours, 65% Jump from previous year. Most shocking ofcourse was the dismal number shown by mixer, which grew just by 0.2% inspite of signing streaming biggies like Ninja and Shroud. Viewership wise Mixer is at the bottom of the industry with just 37.1 Million watch hours.
Mixer signed an exclusivity deal with Ninja and Shroud in August 2019 but dispite of that the platform did not see any significant increase in its viewership. Several other content creators who joined Mixer also couldnt help move the needle for the company. Most of the streamers themselves saw a decline in their viewership compared to Twitch. This raises the question, is Mixer dying? If we disregard the 15% growth in viewership for Mixer in the last moth due to lockdown, the company would have reported a 15% decline in viewership YoY, which is a very bad sign in a growing industry.
Meanwhile, from March 2020 to April 2020 Industry reported a total growth of 45% in just one month. However due to plunging ad revenue, streamers did not enjoy any significant increase in their earnings.