In Far Cry 6, there are 21 Treasure Hunts. The treasure hunts provide access to a variety of one-of-a-kind weapons required for the Armed to the Teeth trophy or achievement. Treasure hunts are generally small puzzle areas where you must complete a series of steps to gain access to a treasure chest.
"The Legend of La Princesa" is a Treasure Hunt In Far Cry 6 where a player needs to search for treasure in a Blue Hole water cave. There are no pre-requisites for Treasure Hunts. A player just needs to head the purple treasure hunt icon and need to read the note that starts the treasure hunt.
Starting Location:
The treasure hunt "The Legend of La Princesa" is located in the Costa del Mar sub-region of the Madrugada Region. Go to the island on the western coast of Costa del Mar where the purple treasure hunt icon is pinned on the map. On the map, I've marked the location. Read the torn letter posted near the wooden railing to start the treasure hunt. La Princesa, according to the letter, had hidden her treasure from pirates in a sea cave.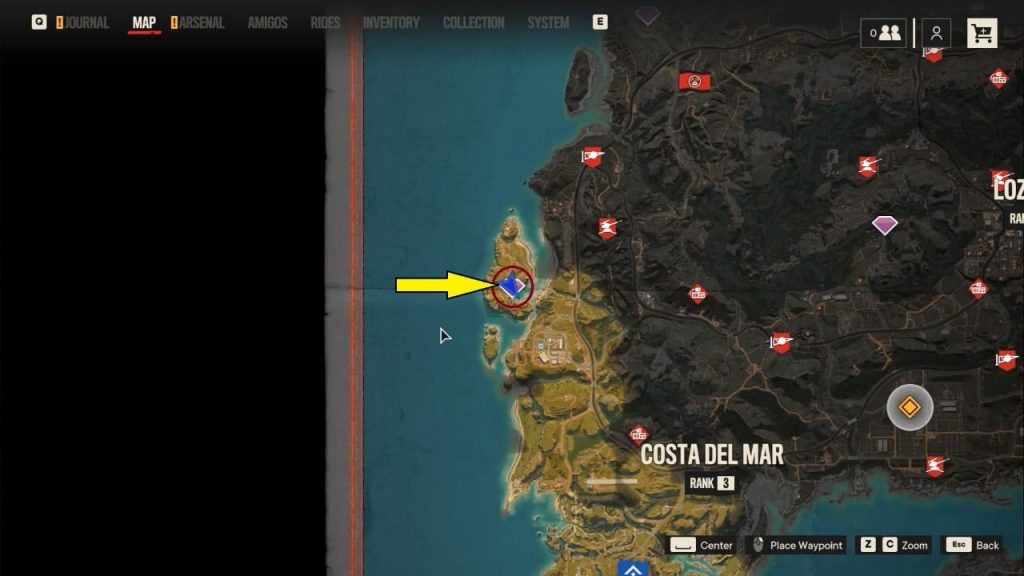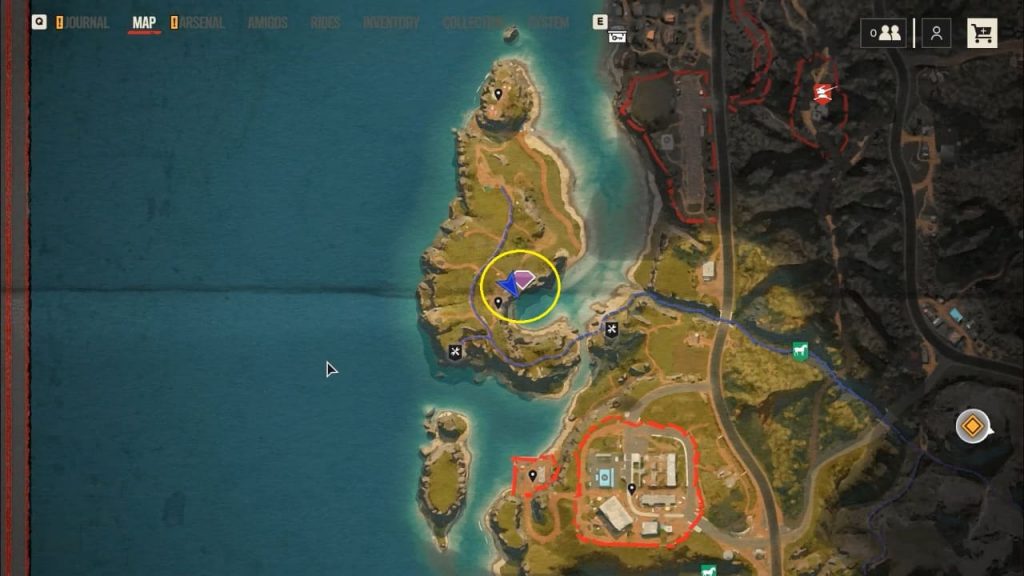 Objectives: Explore the secrets of The Blue Hole Cave
As per the clue from the letter, your goal is to explore a sea cave to locate the treasure. Luckily, the blue hole cave (sea cave) is nearby only. To get to the cave, simply jump across the wooden railing where you read the letter, dive into the water near the jellyfish, and take a long dive into the water.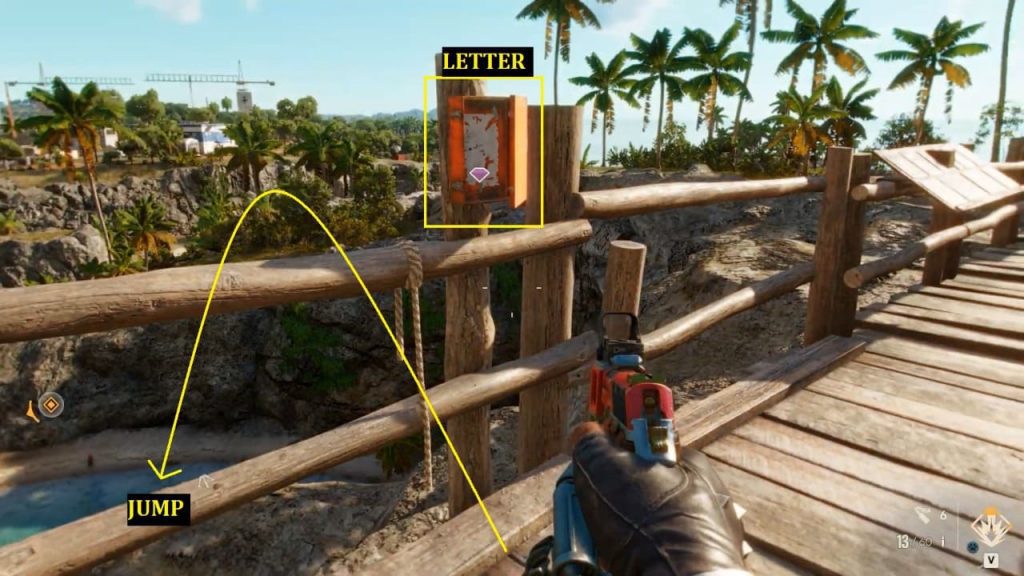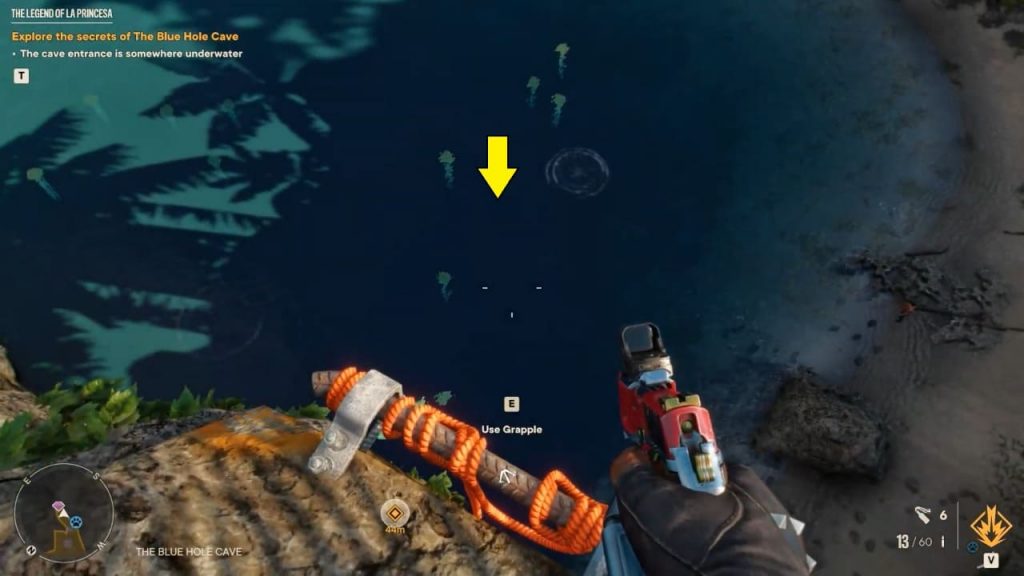 Area #1
Once inside the water, you can follow the blue color wooden planks to enter the cave and reach solid ground.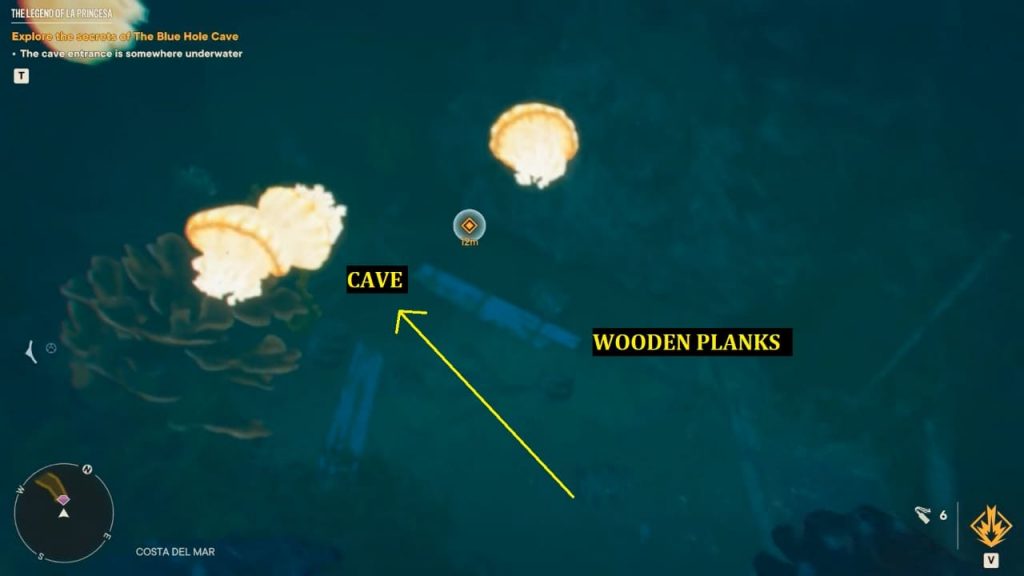 Area #2
To reach the next area, jump down into the water and circle around inside the water clockwise to reach solid ground again.
Area #3
We need to get back in the water. This time, the jump hole is hidden behind the rocks. Look for cloth nets, as shown in the image below, to find the exact location of the water hole. Dive into the water hole and follow the blue-colored wooden planks inside water cave to reach solid ground.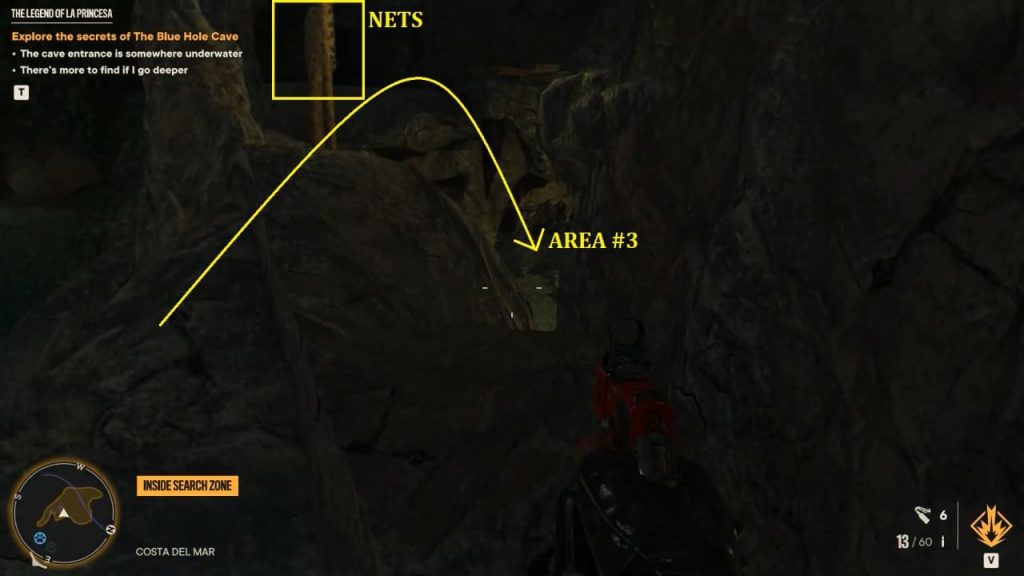 Area #4
Grab all of the collectibles on the ground before jumping into yet another diving section. Take a right at the crossroads. In this final section, circle around and jump across the ledges until you see a skeleton.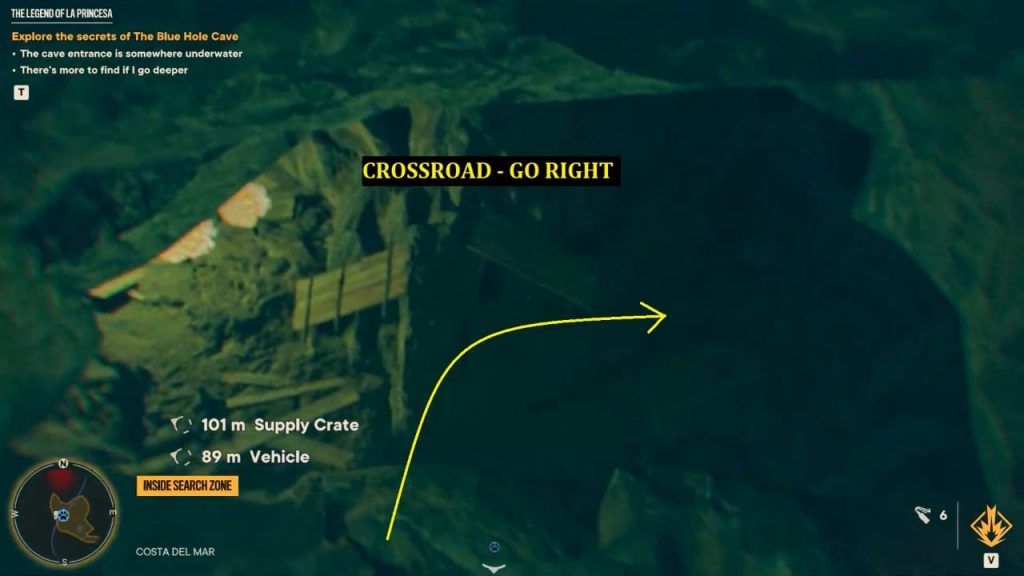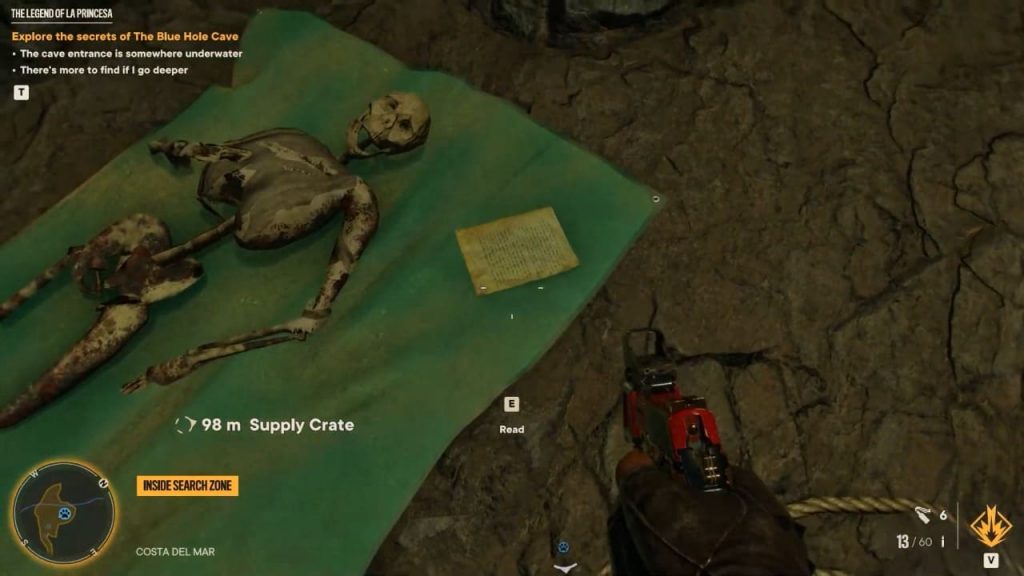 Look up to find a grappling point as you stand near the skeleton. Climb a few meters using the grappling point. Jump over to the elevated section with the fencing and wooden planks on the ground to reach the chest.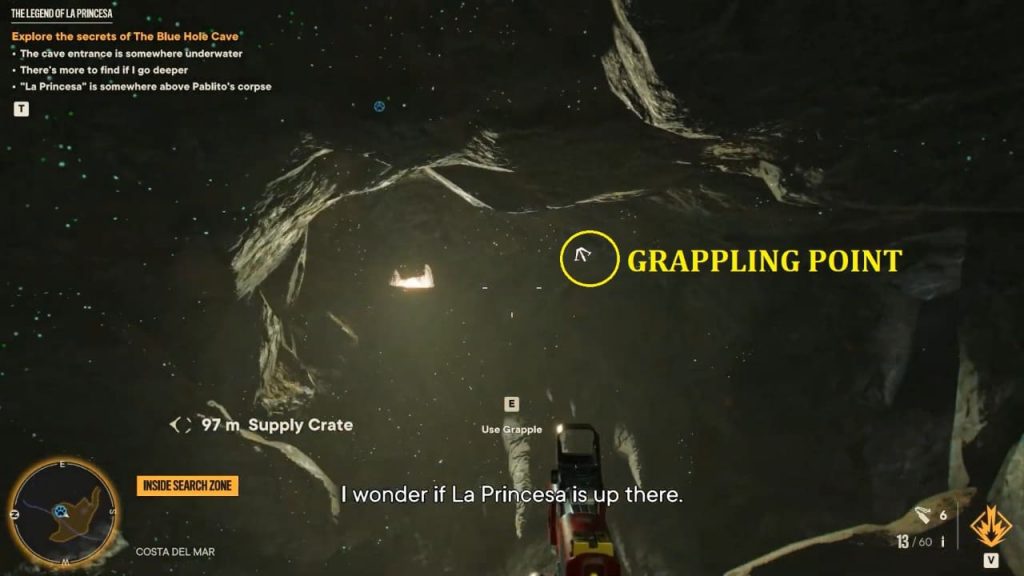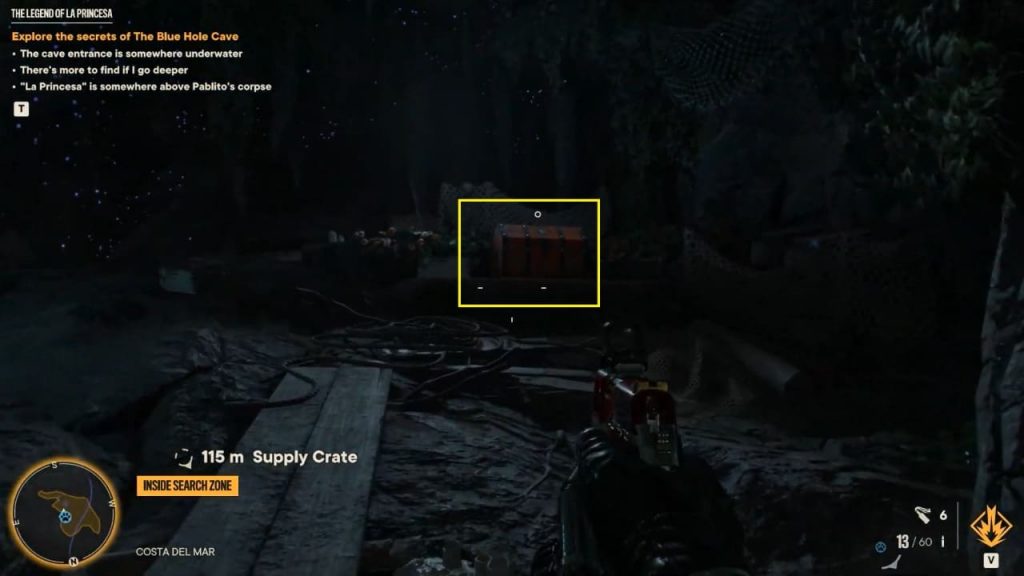 Open the chest to find the treasures and this finishes The Legend of La Princesa Treasure Hunt in Far Cry 6.