Gameplay and Setting
Watch dogs Legion is a Third Person action-adventure game developed and published by Ubisoft. Its the third installment of Watch Dogs Series set in a fictional post Brexit London in which you play the role of a hacker fighting against the Central Operating System (ctOS) that is invigilating the citizens. One big feature for Watch Dogs legion is that every NPC is a recruitable character with rich backstory.
Release Date. Is Watch Dogs Legion Delayed ?
Watch Dogs Legion's initially planned release date was 6th March 2020 but due to Covid Pandemic the game has been delayed. Ubisoft has confirmed that the game is planned to be released in the financial year 2020-21, which means the game is slated to be  released before April 2021.
Update: New release date is 29th Oct 2020
Platforms. Will Watch Dogs legion be on PS4 & Xbox?
Platforms: PC (Epic & Ubisoft Store), Playstation 4, XBox One & Stadia. The game will also release on the new generation consoles, Playstation 5 & XBox Series X as confirmed by the CEO.
Does Watch Dog legion have mulptiplayer/Co-op ?
Watch Dogs Legion will support co-op with upto 4 freinds. There will be no Split Screen option.
Is Watch Dogs Legion Offline?
Single player mode will be playable offline. Internet will be required for Multiplayer though.
How to Play Watch Dogs Legion Early?
If you Pre-Order Watch Dogs legion Gold or Ultimate edition you'll get 3 days Early access to the game.
Will Watch Dogs legion be on Steam?
Not Initially. Watch Dogs Legion will be Epic Exclusive for 1 year.
Is Watch Dogs Legion Cross Platform ?
Ubisoft CEO has said that they plan to infuse cross play on all major Ubisoft titles. That means Watch Dogs Legion may aslo support cross play. But its not confirmed yet.
Watch Dogs Legion: Editions, Price, Pre Order Bonuses
Standard Edition (43.99$ in Epic Store) : Base game
Gold Edition (73.99$in Epic Store): Base Game, 3 Day Early Access, Season Pass
Ultimate edition (79.99$ in Epic Store): Base Game, 3 Day Early Access, Season Pass , Ultimate Edition digital content, 4 Week VIP Status
Season pass Includes:
Five new stories with immediate access to one story
Four iconic heroes with unique abilities
Ultimate Edition digital content :
The Urban Jungle Pack, including three unique characters with their own skills and cosmetics
Three additional masks
A four-week VIP Status (earn Experience & Currency faster)
Collector's edition (189.99$ in Ubisoft Store): Ultimate Edition Content, Collector's Edition Box, exclusive Steelbox, Set of 3 Stickers, Double Sided Propaganda poster, Lighting Ded Coronet mask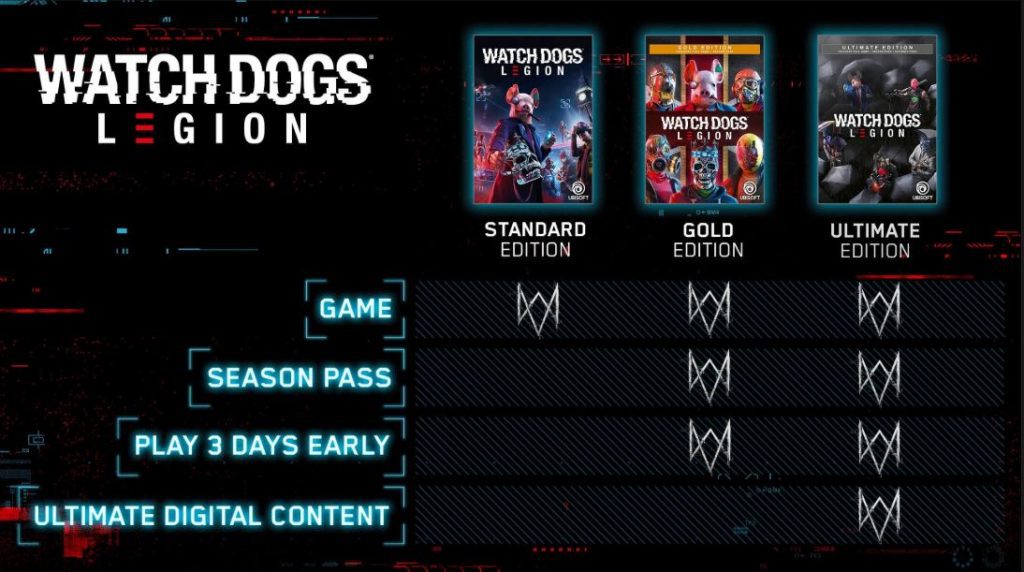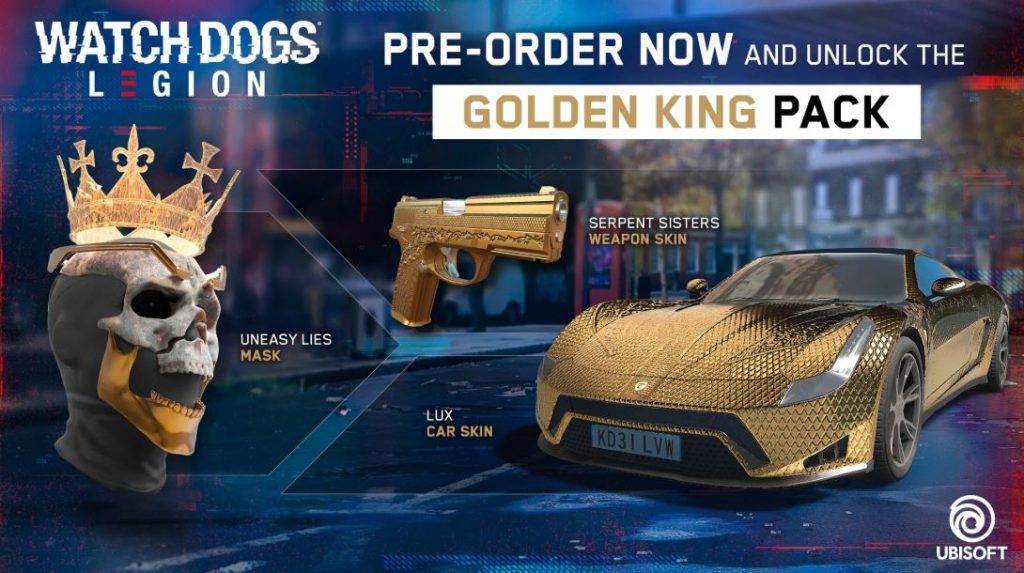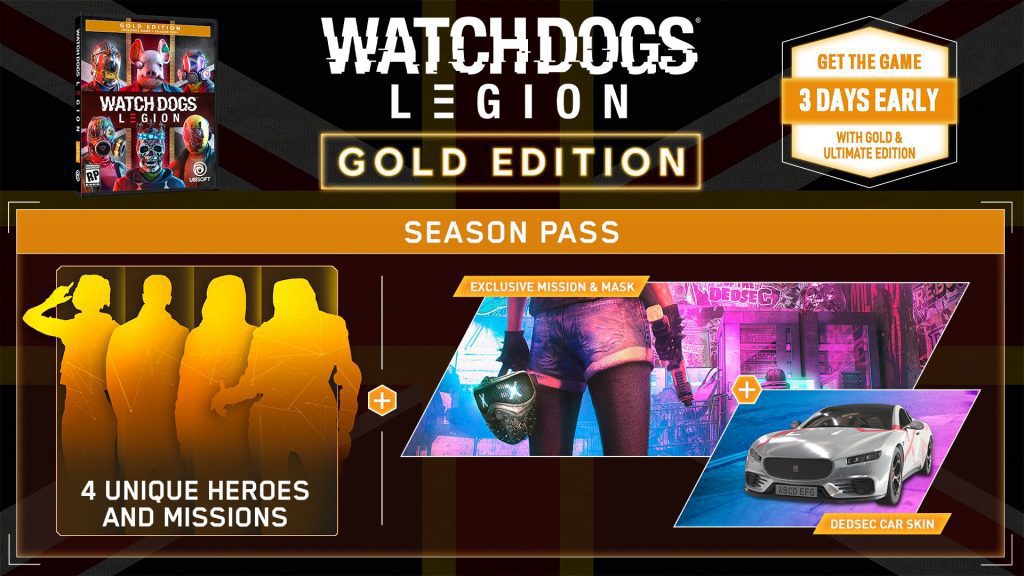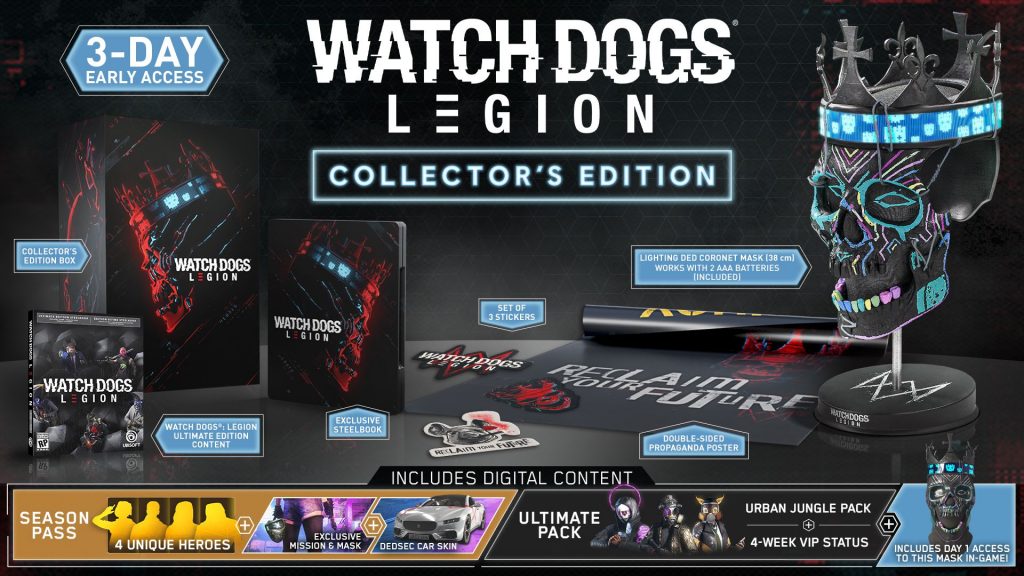 Why is Watch Dogs Legion not on Playstation Store. How to Pre Order Watch Dogs Legion for PS4 ?
Since the game got delayed Playstation, as per their policy, has cancelled all the Pre Orders and has also taken out the Pre Order option from their store. This they also confirmed through twitter.
Due to the game delay of Watch Dogs: Legion, all pre-orders on the PlayStation Store have been automatically canceled and refunded, per Sony PlayStation's policy. Once a new release date is set for the game, pre-orders will resume on the PlayStation Store for all Watch Dogs fans.
Physical copy for PS4 & XBox One can be however Pre Ordered from various online retailers and also from Ubisoft store.