This guide will help you to activate the console for the game Augment in Fortnite Chapter 4 Season 1. The Augment is something new that hasn't been part of Fortnite before. Augments are items that enhance some of your abilities during the match.
Also Read: All 15 Character Locations | Fortnite NPCs In Chapter 4 Season 1
List of Augments in a Fortnite Chapter 4 Season 1
Aerialist: Ability to redeploy your Glider
Bloodhound: Enemies hit by a marksman rifle or bow are marked
Bow Specialist: Bows reload faster, and arrows generate passively
Bush Warrior: Regenerate health while standing in a bush or other foliage
Chug Gunner: Receive a Chug Cannon.
Demolitions Munitions: Objects you destroy have a chance to drop explosives
How to activate an Augment in Fortnite Chapter 4
Players who survive storm phases and avoid elimination in a Battle Royale round will get Augments. When you reach the time interval where Augments are awarded to players, you will automatically receive two of them, with the option to reroll any that you don't like. Since these are temporary, a specific one cannot be used in another game as it applies to the same match the player redeems it in.
To Activate an Augment in Fortnite Chapter 4 Season 1, follow these steps:
1) Press the default assigned numeric key "7" and the Augments sidebar will open up.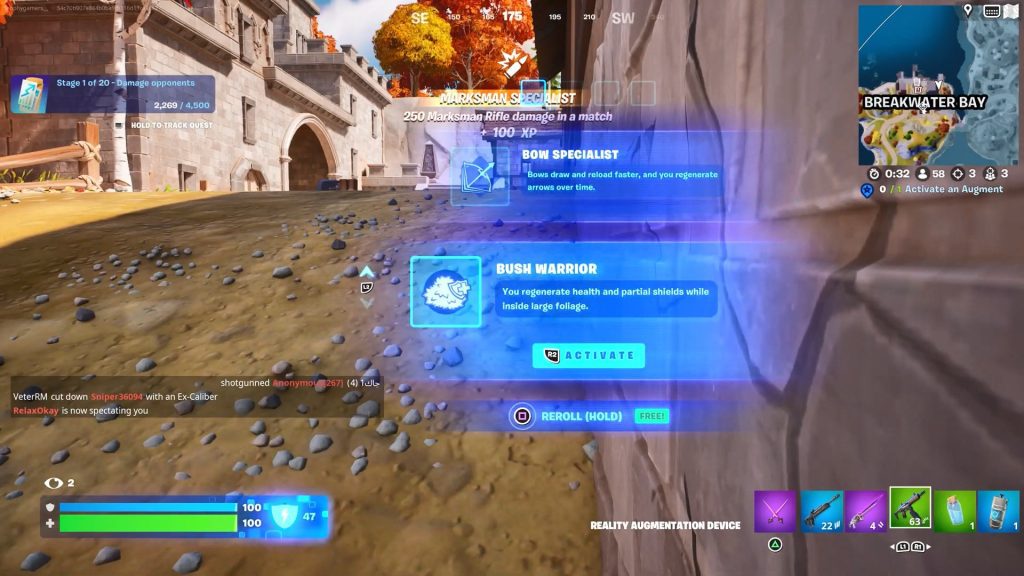 2) There, you will be able to see two Augments at a time to choose from. If you do not want both of them and would instead like to choose another, you can reroll by pressing E. This will swap the current selection and give you two new ones to choose from.
Alternatively, you can change the default key for Augmentation.