Valheim Bonemass: Bonemass location, How to summon Bonemass
Once you have defeated the Elder Boss is defeated, collect Elder Trophy and Swamp Key. These two items are going to help in further progression in the game and in defeating the next upcoming valhiem boss. Swamp Key is used to unlock "Sunken Crypts" in the upcoming level. 
Bonemass is the third boss you will face in Valheim and it is located in Swamp Biome. It is a Valheim third boss must be summoned at a Bonemass Mystical Altar. To find the correct location of the Bonemass Mystical Altar you need to interact with a red glowing runestone inside a sunken crypt. You start getting iron in the swamp, which helps with the combat
This Bonemass boss fight guide explains to you about Bonemass power, Bone mass weakness, Bonemass Valheim offering, and trophy.
Start exploring swamp biome

– Next Boss is located in the swamp biome. There is no definite location of the swamp biome. Move along the shore to reach the swamp biome.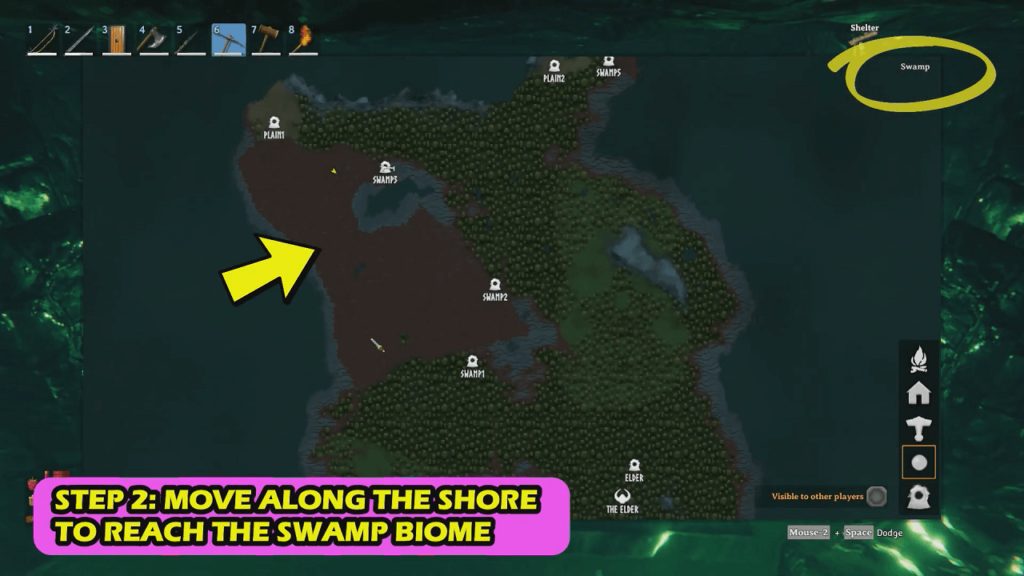 Unlock Sunken Crypts

 – Once swamp biome is located you will find multiple sunken crypts just like abandoned stone buildings from other biomes. Use Swamp Key to enter. Swamp Key is obtained after defeating Valheim second boss, Elder.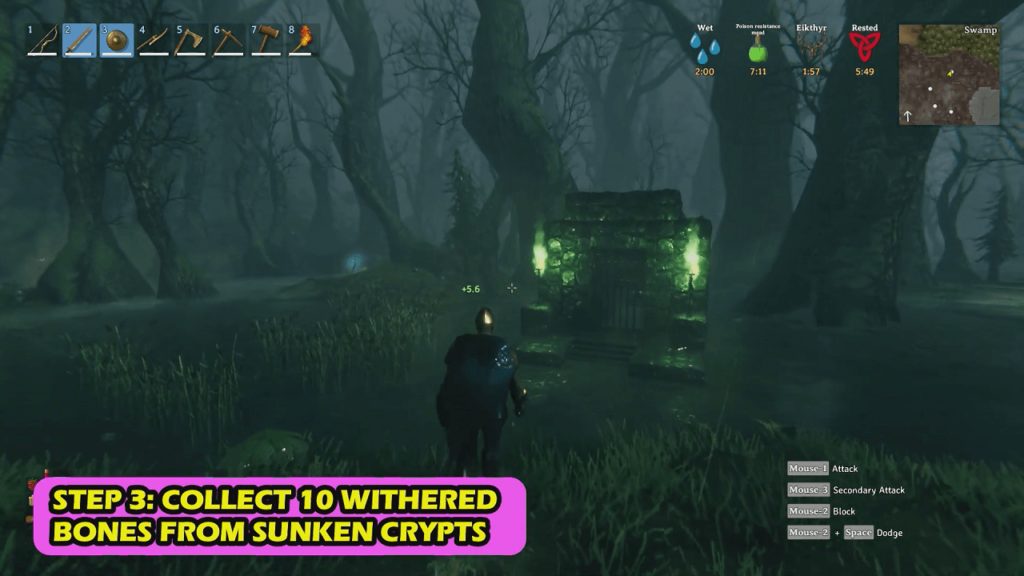 Collect 

10 

x 

Withered Bones

 from Sunken Crypts

. 

These items are used to summon Valheim third Boss Bonemass. You need to search multiple sunken crypts to collect all 10 withered bones.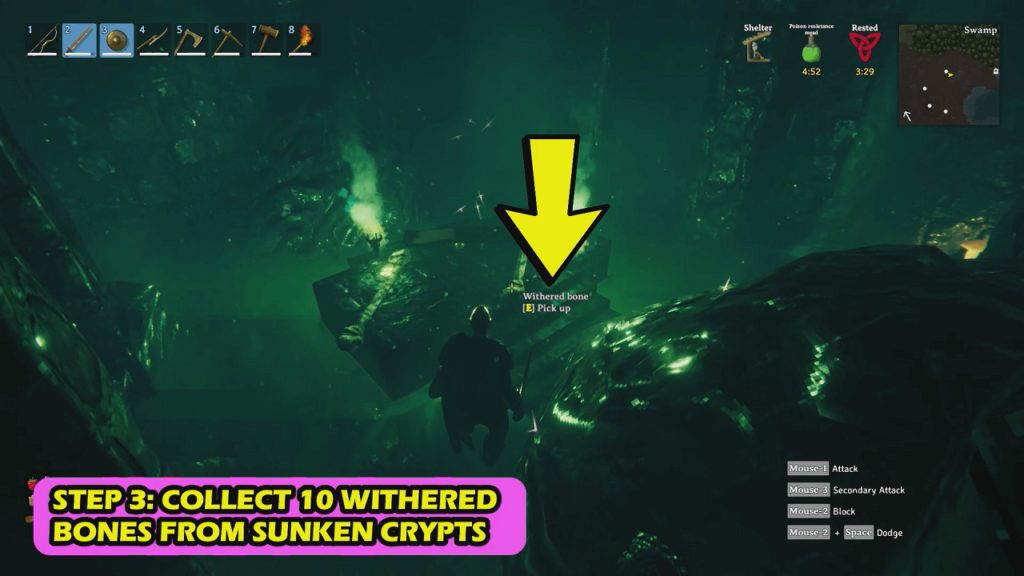 Find Bonemass location -In one of the sunken crypts you will find rune stone, interact with it to reveal Bonemass location

Reach Bonemass Mystical Altar location and offer 10 x

Withered Bones

to summon bonemass. Mystical Altar is a giant skull coming out of the ground. Sacrifice withered bones to summon Valheim third boss.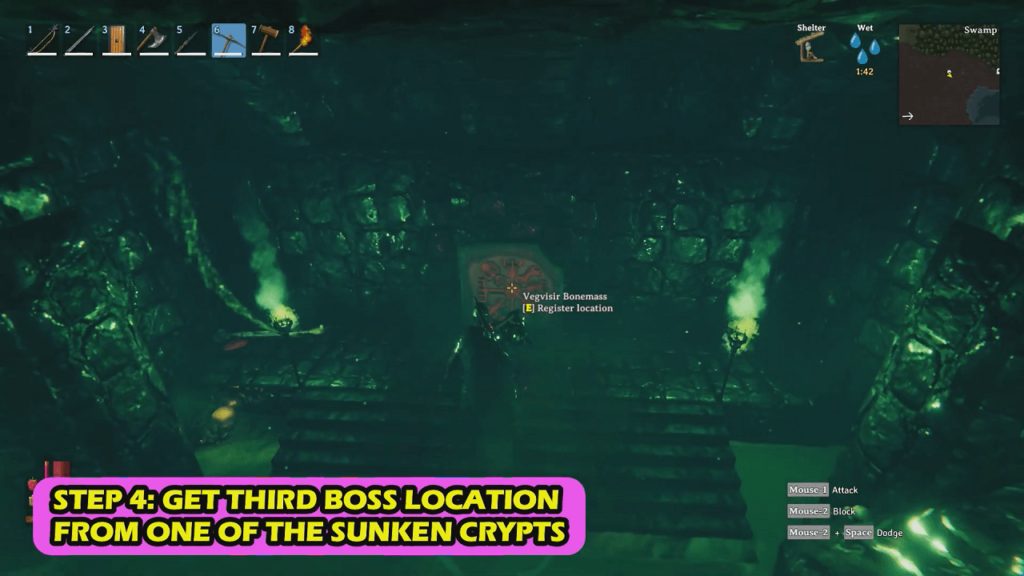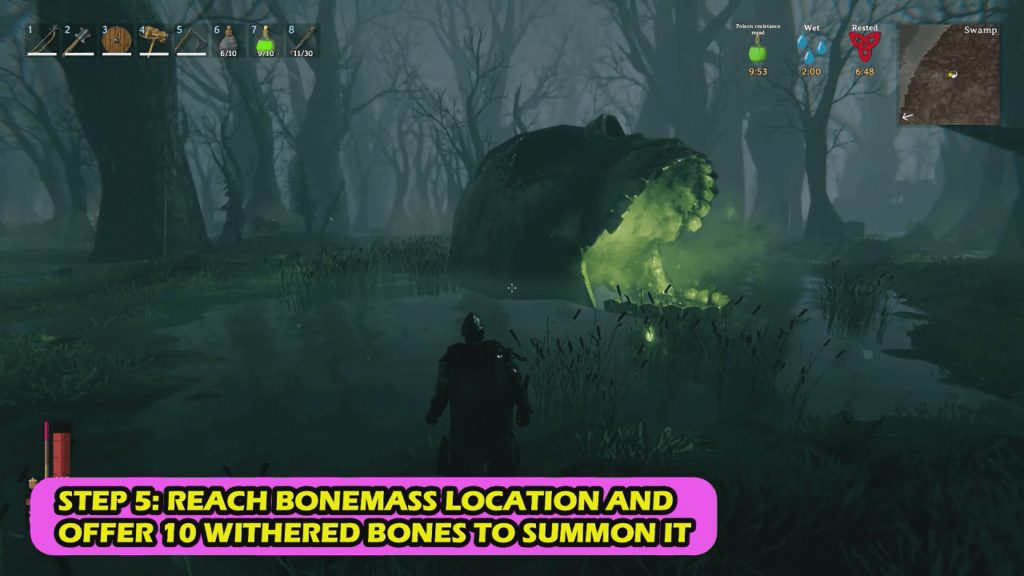 Like the other two previous boss fights, you also need to prepare yourself before summoning Valheim third boss and fighting Bonemass. Poison resistance mead is highly effective against it. Use fermentor to prepare this mead.
Bonemass weakness is against a blunt object. Use iron sledgehammer, iron mace, and wooden club weapons against Bonemass.
Maximize your health by eating different kinds of foods available. Take adequate rest to maximize stamina. You will also need to update your armor from lather base to iron base.
Also, check out our Valheim Guide and Walkthroughs