There are 5 Amigos (Teammates) that you can unlock in Far Cry 6. These are Guapo (Crocodile), Chorizo (Small Dog), Chicharron (Rooster), Boom Boom (Big Dog), Oluso (Panther). The Amigos can be summoned and help you in battle (or in stealth). They can attack or distract enemies.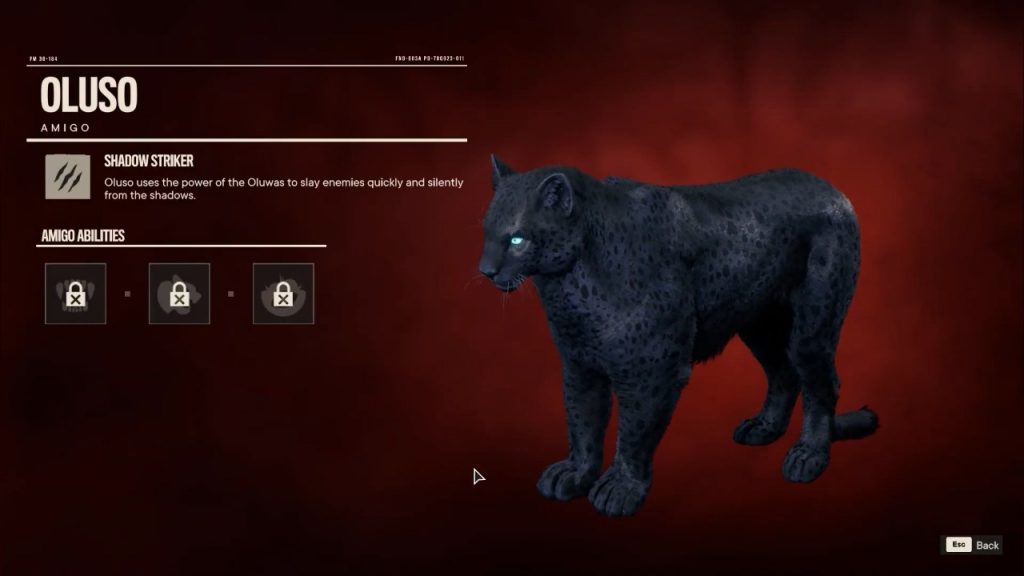 Oluso (Panther): How to Get Oluso in Far Cry 6
Oluso is a reward for completing Yaran Story "Triada Blessings". This quest requires you to solve 3 treasure hunts:
Ída's Triada Relic (Madrugada Region)
Okú's Triada Relic (Valle de Oro Region)
Mimo Abosi's Triada Relic (El Este Region)
After completing all three treasure hunts, bring all treasures back to the Triada Blessings quest starting point and place the relics. Complete the "Triada Blessings" quest to get Oluso as a reward.
Oluso abilities:
Mimo Abosi's Luck: Oluso has a higher chance to succeed at stealthy takedowns during battle.

To unlock: Have Oluso kill 12 enemies in a Restricted Area.

Rage Of Ida: Successful takedowns using Oluso will cause nearby enemies to flee.

To unlock: Have Oluso kill 24 enemies using a takedown.

Mist Of Oku: Oluso is surrounded by smoke when below 50% health, and is immune to damage, hard to spot, and regenerates health faster.

To unlock: Have Oluso inflict Fear on 50 enemies.