The Goliath is the final race you will participate in during the Forza Horizon 5 campaign, and it is the longest track in the history of the Forza Horizon series, with an impressive 34 mile (55 km) circuit lap. If you finish it in a specific amount of time, you will unlock a special trophy. This guide will explain everything you need to know about the Goliath race.
Forza Horizon 5: How to Unlock the Goliath Event
To access the Goliath event, you must complete the Forza Festival Mainstage storyline. Before you can take on this event, you must first complete all of the races that preceded it. Simply follow the map marker that will lead you to the race's starting point to get there.
You will first need to complete these three preceded missions:

– Welcome to Mexico
– On a Wing and a Prayer
– Vocho
Tips on Beating The Goliath
The race lasts approximately 15 minutes. It's purely an endurance test. It is one of the game's longest races, taking you all over the map. If you complete it in the first place, you will receive a slew of prizes. These include the "Long Gone" achievement and the "I can go the distance" accolades. The most important thing to remember is to drive safely. Don't be too concerned if you do lose some time. Simply get back on track and continue. It's a long race, so you can make a few mistakes and still finish on time.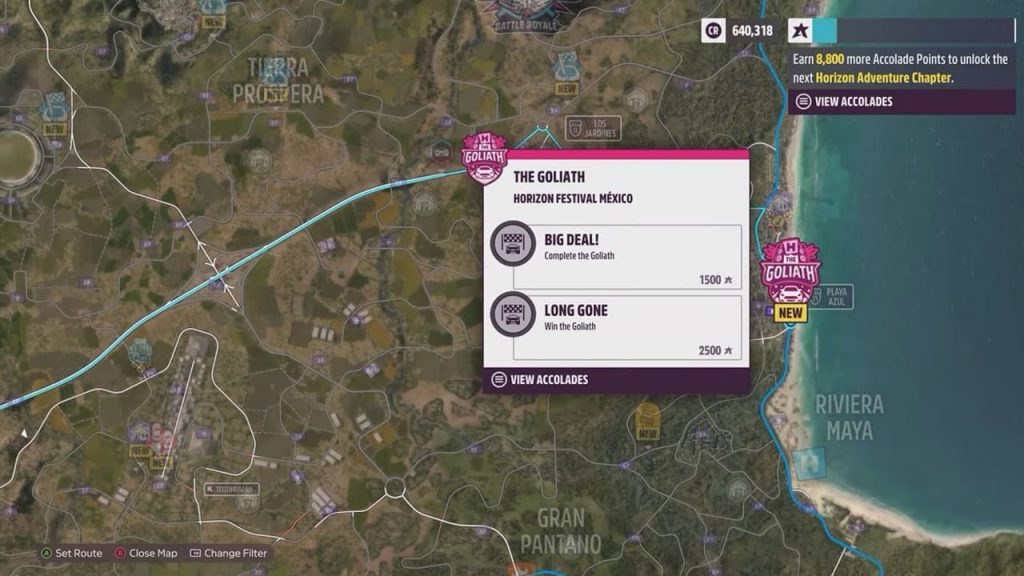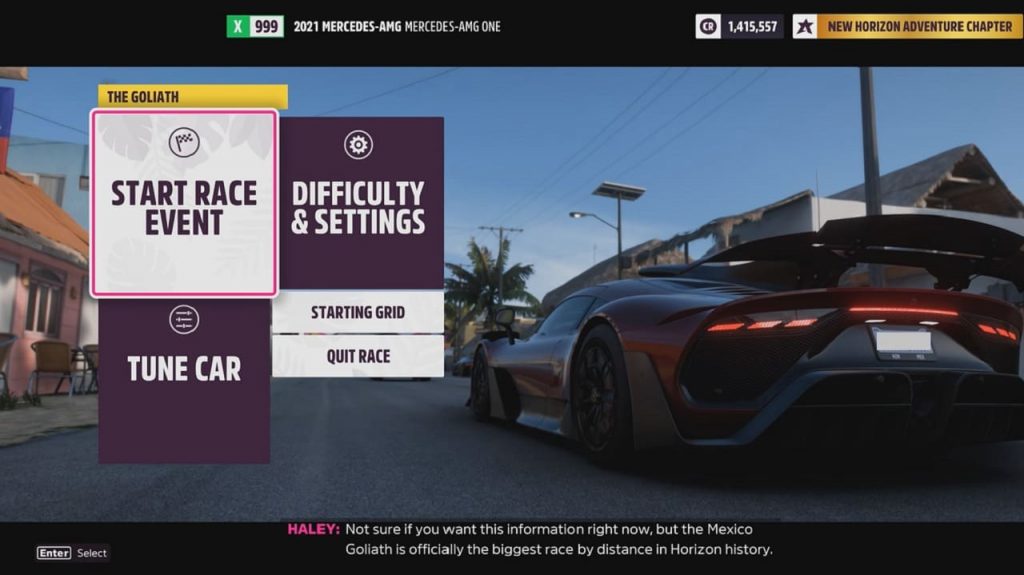 ---
ALSO READ:
Forza Horizon 5: Premium Add-Ons & How to Unlock Them | Free House, Cars, Welcome Pack, Car Pass, VIP Membership
Forza Horizon 5 Tulum Expedition
Jungle Expedition Optional Accolades Guide 
How to Sell, Buy, or Gift Cars in Forza Horizon 5
MuralCompass: Star 27's Mural in Mulege Photo Challenge
Forza Horizon 5 Achievements
Forza Horizon 5 Baja Expedition: All Optional Accolades
Forza Horizon 5: All 14 Barn Find Locations
How to Get Lamborghini Sesto Elemento FE in Forza Horizon 5
Forza Horizon 5: The 10 Best Cars You Need to Own
Forza Horizon 5: How to Unlock Fast Travel | Fast Travel for Free Guide